2024 EARLY BIRD REGISTRATION NOW OPEN!
WE ALWAYS SELL OUT MONTHS IN ADVANCE- GET IN EARLY AND $AVE!

WE DON'T COMBINE AGE GROUPS IN YOUTH TOURNAMENTS.
IF THERE ARE 16 TEAMS IN YOUR 6TH GRADE BRACKET- THEY'RE ALL 6TH GRADE TEAMS. 
We are well-established, and we pride ourselves in putting on an organized tournament year after year. With continued growth, we consistently sell out, so don't wait too long to secure your spot!

LAST YEAR WE SOLD OUT BOTH TOURNAMENTS MONTHS IN LATE FEBRUARY!
COACHES LOVE ROCKY MOUNTAIN 7 ON7
The reasons for competing in 7 on 7 leagues and tournaments are many. It sharpens the receiving and quarterbacking skills of the offensive players. It is a great way for defensive players to get much-needed pass coverage experience. It's the perfect off-season way to focus on techniques that will better develop every athlete.
Great tournament! Well organized and a lot of great competition from around the state of Utah and outside the state as well! Easily the best 7 on 7 opportunity in the SL valley and a fun way to work on the passing game in the off-season!

JUSTIN HATCH
Rocky Mountain 7 on 7 is one of the best tournaments all around that I've coached in. Great overall competition, good reffing and amazing format! If you want competition, easy transition between games and a great experience, this is THE tournament to join! 

Coach Rowan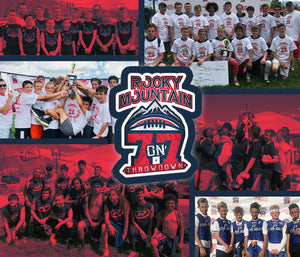 If you've played before... welcome back and if you're new to 7 on 7, this tournament will not disappoint!
Rocky Mountain 7 on 7 is Utah's premier and most established tournament in Utah and surrounding states. If you only do one tournament this year, this should be it!
-
This tournament is not put on by a specific conference, so the competition is very diverse. You will play teams you haven't played before and aren't accustomed to facing during regular season play.
-
There is no better way to test your team then at the most competitive tournament offered. 
-
We offer more; more value, more games, more competition. You play a TON of games. There is a reason that teams keep coming back every year!